Cardiff City Stadium - Elton John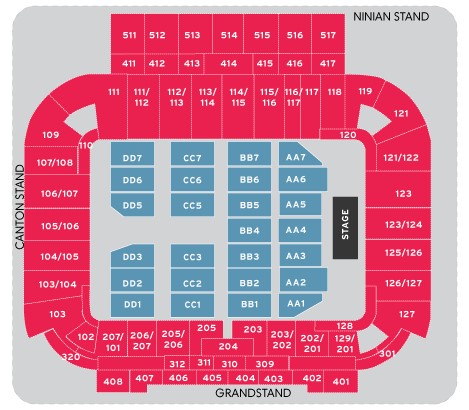 Directions
By Car

If you're travelling to the Stadium by car, access to the Stadium from the M4 is easy. Leave the M4 at junction 33 and take the A4232 towards Cardiff/Barry. Exit the A4232 on to the B4267 turn-off, signposted towards Cardiff City Stadium. You'll see the venue on the horizon as you approach the turn-off!
Follow the slip-road off the B4267 and take the first left at the roundabout - the Stadium will be on your right hand side. Turn right at the second set of traffic lights and follow the appropriate signage for your dedicated parking space.
N.B. Parking at Cardiff City Stadium is limited. Parking spaces are predominantly designated to Season Ticket Holders, with the remaining spaces allocated on a first come first served basis. There are alternative parking areas within a short walking distance of the ground.
By Train

The railway station in closest proximity to Cardiff City Stadium is now Grangetown Station. The venue is approximately a 5-10 minute walk away from Grangetown, which you can get to by taking a connecting train from Cardiff's main station, Cardiff Central. There are direct trains from London Paddington, Birmingham, the south coast and south-west England, with connections from the rest of the National Rail network to Central Station - a step free station with staff assistance available.
By Bus

There are local bus routes and stops that provide excellent access to Cardiff City Stadium. National coach operators also provide a regular service to Cardiff City centre.
By Bike

Free, secure, managed cycle parking is provided at Cardiff City Stadium.
On Foot

It's easy to walk to Cardiff City Stadium, with footpaths and direct routes from most areas of the city. To walk from the centre of Cardiff to the Stadium will take approximately half an hour. You will need to head south west of the Principality Stadium towards the Riverside area of the town, then follow signs to the Stadium. N.B Supporters are advised to think of their own safety when walking to the Stadium, particularly during evening events or when visibility is reduced. Always be aware of traffic around you and think about your route home when leaving at the end of the concert.