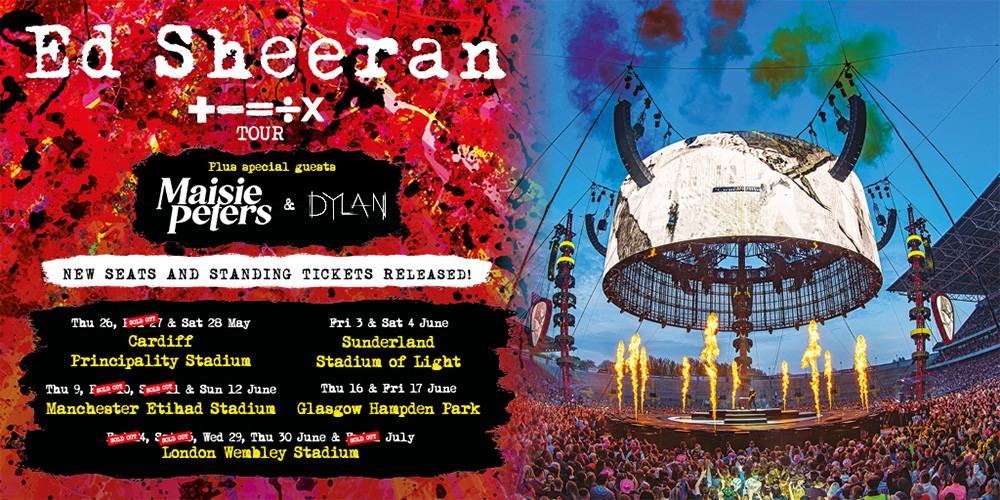 HOME PAGE
-
ED SHEERAN UK TOUR DATES 2022
-
ED SHEERAN TICKETS and PACKAGE DESCRIPTIONS
-
FAQs
*** ED SHEERAN CAT 1 - SUPER LOWER TIER TICKET or GA STANDING and HOTEL - OFFICIAL PACKAGES ON SALE NOW! ***
Flexible Payment Options - Pay Just Deposit - (Balance 8 Weeks Before Event) or Staggered Interim Payments or Pay In Full
ED SHEERAN
'+ - = ÷ x TOUR'
(PRONOUNCED 'THE MATHEMATICS TOUR')
Plus Special Guest MAISIE PETERS & *DYLAN (*Glasgow)
FIRST LEG OF STADIUM TOUR DATES CONFIRMED IN
UK, IRELAND, CENTRAL EUROPE & SCANDINAVIA - UK DATES INCLUDE CARDIFF, SUNDERLAND, MANCHESTER,
*GLASGOW & WEMBLEY STADIUM, LONDON IN JUNE/JULY 2022
ED SHEERAN UK TOUR DATES
MAY 2022 - Thurs 26th, Fri 27th, Sat 28th - Cardiff - Principality Stadium - JUNE 2022 - Fri 3rd, Sat 4th - Sunderland
Stadium of Light, Fri 10th, Sat 11th - Manchester - Etihad Stadium, Thurs 16th, Fri 17th - *Glasgow - Hampden Park,
Fri 24th, Sat 25th, Weds 29th, Thurs 30th and JULY 2022 - Fri 1st - London - Wembley Stadium London
Ed Sheeran's first leg of his '+ - = ÷ x Tour' (pronounced 'The Mathematics Tour'), is taking place in stadiums throughout 2022. Kicking off in April, the tour will see Ed play shows across the UK, Ireland, Central Europe and Scandinavia, and will see him return to London's Wembley Stadium for three nights in June/July. Ed's upcoming '+ - = ÷ x Tour' will see Ed return to stadiums for the first time since his record-breaking 'Divide Tour': taking place from 2017-2019, it officially became the most-attended and highest-grossing tour, ever, by the time of its completion. Fans will get to see Ed perform an array of tracks off his new album, '=', live for the first time and they will also experience a new production set-up with Ed's staging in the round, surrounded by the crowd in each stadium.

We are delighted once again to be able to offer travelling fans Official Ticket & Hotel Experiences including choice of either Top Price Reserved Seats - or GA Standing Tickets!! and more .... See you there!!!! ......
ED SHEERAN '+ - = ÷ x TOUR' UK DATES 2022
ED SHEERAN TICKETS UK - 2022
Official Ticket and Hotel Package
INCLUDING::-
Choice of either Top Price Cat 1 Lower Tier Reserved Seat or GA Pitch Standing / Unreserved Seated Ticket
(Select preferred ticket choice at time of booking)
One Night Hotel Stay including complimentary Buffet Breakfast
Complimentary Souvenir Programme & Carrier
Commemorative Info/Voucher Holder sent in advance
On-Site Event Hosts
24/7 Customer Support (on day of concert)
NB:
MAX 6 Persons Per Booking:-
Under 16s should be accompanied by an adult. No children under 5 - See show pages for any age or venue restrictions and seating/site plans ....

IMPORTANT CONDITION OF BOOKING:- THIS TOUR WILL ONLY BE OPERATING DIGITAL TICKETS - THE LEAD NAME MUST PROVIDE THEIR SMARTPHONE NUMBER AT TIME OF BOOKING AND MUST BE IN ATTENDANCE ON THE DAY
Prices From: £219, €255, $309 inc VAT/TAX
To protect you and to avoid disappointment we strongly recommend only purchasing
Tickets From Official Ticketing Websites - See FAQs - Promoters Terms and Conditions
IMPORTANT: ANY PACKAGES FOUND TO BE OFFERED FOR RE-SALE WILL BE CANCELLED WITHOUT REFUND
NB: These shows are operating Digital Tickets - therefore no tickets will be posted or emailed in advance.
It is a condition of booking that the lead name has to provide their Mobile Smartphone Number and be Present on The Day - Full information and guidance will be sent to you prior to the event.

Please note no other Ticket and Hotel Package provider is official for these tour dates.