Jurys Inn Glasgow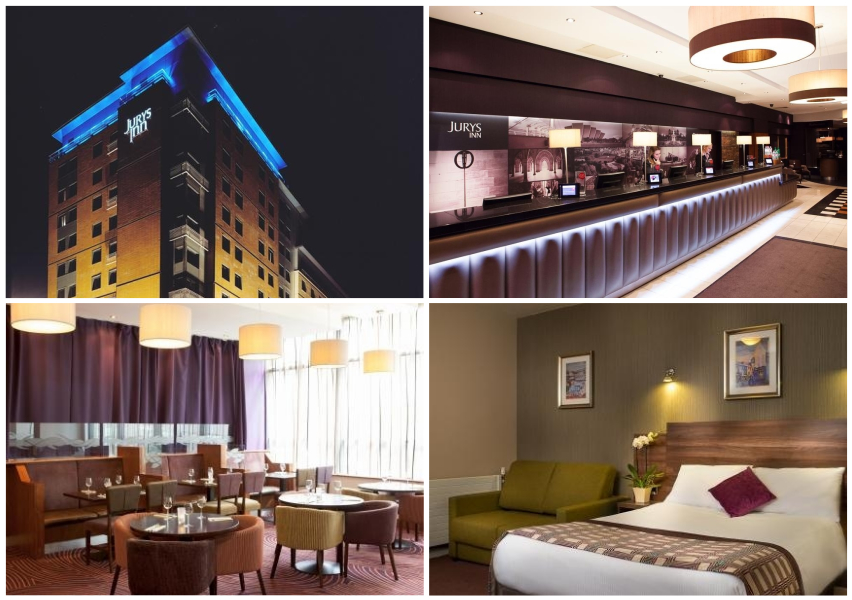 Description
Jurys Inn Glasgow is ideally located on Jamaica street and over looks the River Clyde. The area offers easy access to business districts, restaurants, bars, museums and galleries. Offering an excellent standard of 3 star accommodation, this budget style hotel is just a few minutes walk from Central Station and within short walking distance of the city centre.

Rooms
Spacious room for up to 3 adults or 2 adults/2 children sharing
Free WiFi
Flat screen TV with Freeview
Air-con
Room service available 24 hours
Hair dryer Tea, coffee and hot chocolate refreshment dock
Luggage rack
Spacious bathroom with complimentary toiletries
Spacious well lit work area
Selection of pillows available for your comfort
Rooms available for guests with reduced mobility

Dining Options
Our Jurys Inn Glasgow restaurant does not feel like your typical hotel restaurant, our low lighting candles and comfortable seating instead give an overall relaxing atmosphere in stylish, contemporary surroundings. Last year, Jurys Inn Glasgow was the regional winner of the informal dining restaurant for the Scottish hotel awards in the Glasgow region. The restaurant offers a varied and innovative menu and serves up a local Scottish special every evening too. Our bar area also serves a full menu with bar bites, light plates, sandwiches and burgers all available as well as our grill dishes which are cooked on an open flame char grill to give an authentic smoky barbeque flavour. You can even try some famous Scottish haggis! Or opt for our very popular sticky beef salad. Round your meal off with a delicious Costa coffee and treat yourself to one of our delectable deserts. Or enjoy a cool, refreshing drink and choose from our wide range of wines and beers which includes a selection of boutique beers.
Room service is available from 12pm to 10pm and a smaller night menu is also available from 12pm to 6am. Full details can be found on the room service menu in your hotel room.
Location
This hotel is easily accessible from all major transport points in the city. Whether you arrive by air, rail or car, these easy-to-follow directions should help you find us.

All information is provided in good faith any inaccuracies please CONTACT US Thank you.