ZAG Arena Hannover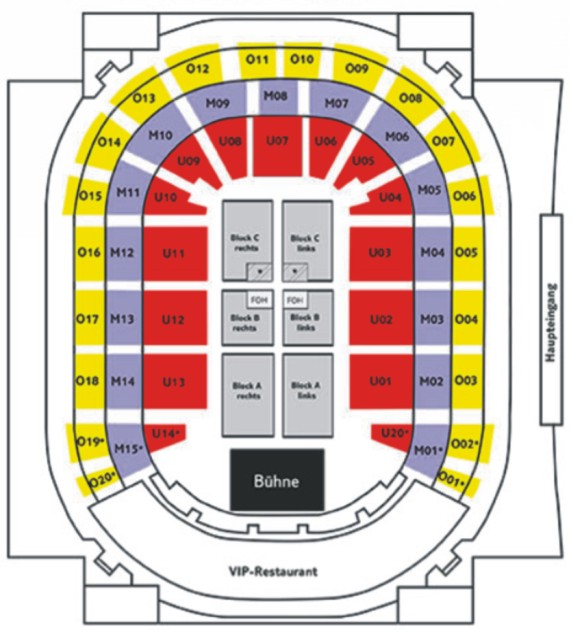 How to find ZAG Arena (Formerly TUI Arena)
ZAG-Arena is an arena in Hanover, Germany. The arena opened in 2000 and holds 10,767, during hockey or handball matches and up to 14,000, during concerts. It is the biggest indoor-venue in the Hanover Region and most major concerts are held there Because of its location next to the EXPO Plaza, the center of the former World Expo site, available to the ZAG Arena of best transport links.
By Road:
From the North:
A7 Hamburg - Kassel to motorway junction Hannover-Kirch Horst, there on the expressway exit 37 (Hanover) and exit at EXPO Plaza
From the South:
Autobahn A7 Kassel - Hamburg until the motorway junction Hannover-Süd,
there on the expressway 37 (direction Messe) and exit at EXPO Plaza
From the West / East:
A2 Berlin-Dortmund motorway intersection Hannover-Buchholz,
Exit the expressway at 37 (Hanover center / fair) and exit at EXPO Plaza

By Public Transport:
From Hanover main station:
Kröpcke on (about 3 minutes walk from Central Station) change to the tram line 6 to Messe / Ost (end) (runs every 15 minutes)
For major events of the GVH is in shorter time intervals for a special cars to the airport.
From the airport Hannover-Langenhagen
The S-Bahn S5 to Hannover main train station (journey time approx 12 minutes), then at Kröpcke (about 3 minutes) transfer to tram line 6 to Messe / Ost (end) (runs every 15 minutes

Parking:
On the days of the event, the TUI Arena and the east and south exhibition grounds in the immediate vicinity open. The parking areas are signposted by an electronic parking guidance system.

Floor space
Parking lot east 14/15 approx. 1,800 cars
Parking garage Süd 26 approx. 1,000 cars
Parking lot south 27 approx. 250 cars
Car park south 28 approx. 640 cars
Parking lot south 29 approx. 850 cars
The parking fee for cars is € 6.
In exceptional cases, the south parking areas 26-29 will be used by the fair at the same time and will be charged at € 11.
You can see here which of the parking spaces shown above will be opened for the respective events.
All information relates to traveling by car; for larger vehicles, please contact the Gesellschaft für Verkehrsförderung mbH.
Contact: 0511/8933601 or [email protected]

Disabled parking spaces
On the car parking spaces (East 14, 15, South 26, 28) parking spaces near the entrance are kept free for disabled visitors and are subject to charges at the same rate as the regular car parking areas.
Individual free parking spaces for the disabled are available on the Weltausstellungsallee by the pedestrian bridge.
NB: All information is proivided in goodfaith and may be subject to change