FAQ's
A few topics to help answer any questions or queries that might arise - We are here to help!
DO I NEED AN ACCOUNT TO BOOK?
Once you have made a booking with Event Travel you will automatically be given your own account and can use this again for future bookings to save you time.
NB: You do not need an account to make a booking

PAYMENT CHOICES
In many cases you can opt to pay:-
Just a Deposit to secure your booking - Any balance will be due 8 weeks before Event/Show
or Full Payment if preferred
You also have the option to make Partial Payments after initial deposit has been paid
You also have the option to select currency GBP, EUR, USD, AUD and ZAR

HOW DO I PAY MY BALANCE or MAKE PARTIAL PAYMENTS?

TICKETS and TICKET ALLOCATION
Often you will have several choices of ticket to select
GA (General Entrance Ticket) Normally Pitch or Floor Standing or can sometimes be unreserved seats - Please see ticket
description on the booking pages.
Reserved Seats (Reserved Seats may be difference price categories) but in all cases you will be seated together (unless
specifically stated at time of booking selection)
Top Priced Tickets are normally referred to as as CAT1 or PL1 - Next price level CAT2 or PL2 and so on
Reserved seats are allocated on a "First Book Basis" - please check description of ticket before booking - there is also a
seating plan to refer to, to help you make the right choice for you.

WHEN CAN I EXPECT MY TICKETS
Tickets we look to send out by secure post/courier a minimum of 7-10 days before the event/show but in many cases a lot sooner that this - but don't worry we will be in contact with you nearer the time to check your delivery address is still applicable and then an email will be sent to you when they are physically shipped! NB: In some cases you will be provided with a Digital Ticket sent to your Mobil/Cell phone.

Please note: You will be required to Sign for your Ticket Pack

WHAT CAN I EXPECT IN MY TICKET PACK / WALLET?
You will receive:-
Ticket(s)
Event information sheet including directions of how to get the venue (These will now in many cases be emailed to you to
help with reducing impact on the climate)
Vouchers (where applicable) - (These will now in many cases be emailed to you to help with reducing impact on the climate)
Itinerary (where applicable) - (This will now in many cases be emailed to you to help with reducing impact on the climate)
24/7 Contact information on day of Event/Show
Digital Tickets (Where Applicable) will be sent to the Lead Name's Mobile/Smartphone/Cell/Email and the Lead Name must
be present on the day of the event for check-in
In certain cases full information may be emailed to you in advance with arrangements to collect your Tickets and any Merchandise (if applicable) from our 0n-site VIP Team on the day of show.

HOTEL RESERVATIONS (Default 1 night Stay)
If your booking includes an hotel for the night, this again will be included in the description. We can book extra nights for you or you can select EXTRA NIGHTS and book now! You can of course book directly with the hotel if preferred. NB: As we work with The Hotel Groups Department, it is normal that our customer names are not viewable in the Hotel's Reservation system until a few days before or even the morning of your arrival, so please don't be alarmed if they can't find your booking. For further assistance, please email customersupport

Hotel Parking may not be avaiable or limited - as an alternative consider - JUST PARK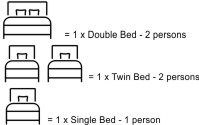 Room Descriptions in the USA can read as SINGLE/DOUBLE BED (1 Bed 2 persons Queen/King Size Bed) or for Single Occupancy (where applicable) DOUBLE DOUBLE = (2 Queen/King Size Beds)

IMPORTANT NOTE:- if you are using Google Calendar, on occasions dependent on your calendar settings, Google can interpret stay duration as being "2 Nights" - Please always refer to your PDF confirmation.

REQUIRE AN HOTEL? - Check out our Concert/Event Hotels all within easy reach of your booked event! BOOK HOTELS
SPECIAL ACCESSIBLE SEATING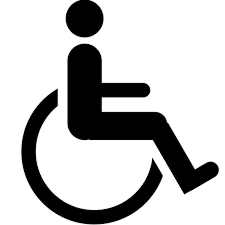 If you need accessible seats, most of the venues have the facilities to deal with any specific requirements you may have. Unfortunately Event Travel are not allocated "accessible" tickets.

Most theatres, arenas and stadiums prefer to make bookings for accessible seats with you directly - they know their venue inside out, so they can make sure your seats are suitable and can answer any questions you might have.

How To Make A Booking At the Venue.
Please go to the Venue's website where they normally provide all relevant contact information.- In some cases Wheelchair users may be able to upgrade to a VIP Ticket Experience, once they have secured their "accessible seats" from the venue or Official Venue Box Office. If Driving Don't forget to book Blue Badge Parking well in advance as spaces are limited.

PERSONAL/EVENT CANCELLATION PROTECTION
We are pleased to provide the option to purchase Event/Concert/Show Cancellation Protection in conjunction with Ticket Refunds, which is available to select during the booking process. (premiums may vary and in some cases may not be available - Please read the policy details below for cover this provides)
POLICY :-See policy and claim proccedure

CONCERT/EVENTVENUE
Please check out the Official Venue Website in advance to ensure you enjoy the best experience pre-concert - If you are Driving we recommend Pre-Booking Venue Parking well in advance as spaces can be limited!
Alternative options JUST PARK
CONTACT
If you already have a booking with us please call t: +44(0)1223 506 560 (Mon-Fri 9am-5pm) or +44 (0)8444 721 333 or e: customersupport