Phones 4u Arena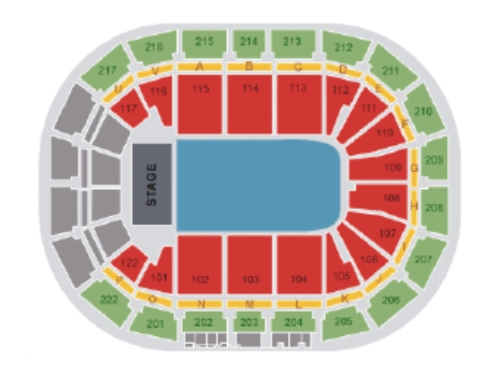 Directions
By Car - Phones 4u Arena is situated on the A56, 3 miles from Junction 17 of the M62.

Parking
The on-site multi-storey car park is operated and managed by NCP Manchester and has a capacity of 900.
Security is up to NCP Manchester's high standards with the car park rated with a Park Mark award. It also has regular patrols and state-of-the-art CCTV monitoring from NCP Manchester's control room. Please beware of unauthorised car parks and street parking.
Public Transport
If you're planning a trip to Phones 4u Arena - day or night - then you'll find public transport is the best way to travel from all over Greater Manchester, and beyond.

Trams
Metrolink trams call at the Victoria stop, right by the Phones 4u Arena. Trams run from many places in Greater Manchester and are also a handy way to get to the Arena from other places in the city centre. Journies can be planned via the Metrolink website.
Buses
Many buses serve Cannon Street and Victoria bus stations and many more stop within easy walking distance in the city centre. If you're staying out late then Nightbus services on Friday and Saturday nights run directly past Phones 4u Arena. Manchester's free city centre Metroshuttle service also links Victoria station with other areas of the centre.

Information
What should I bring with me? Patrons are advised to bring the least amount of belongings possible. Small bags are permitted but may be subject to searches and, at some events, may be removed from standing floor ticket-holders for collection afterwards. The unauthorised use of cameras, video or any other form of recording equipment is strictly prohibited. 35mm cameras are permitted at most events but professional cameras with a detachable zoom lens are not. At certain events, the promoter may request a ban on all photography and signs to this effect will be displayed at all entrances. No food or drink is to be brought into the venue. Banners are also prohibited.
What can I buy when I'm at the Arena? The Arena has a large and varied number of refreshment standards, offering a variety of hot and cold food and drinks, including alcoholic beverages. Official merchandise is also usually available inside the venue and occasionally in the City Room. Patrons are advised not to buy merchandise from vendors outside the M.E.N. Arena as these are not licensed suppliers and the quality of products cannot be guaranteed.
Please note that Upper Tier seats are very steep and are not advised for the elderly, infirm or those with an aversion to heights. If any of these apply, please do not purchase seats in the Upper Tier as relocation on the night is not possible.
Items found on the premises will be held in lost property; telephone 0161 950 5000 to check if your item has been handed in.
Address
Phones 4u Arena, Victoria Station
Manchester, M3 1AR