Ziggo Dome Amsterdam - Standing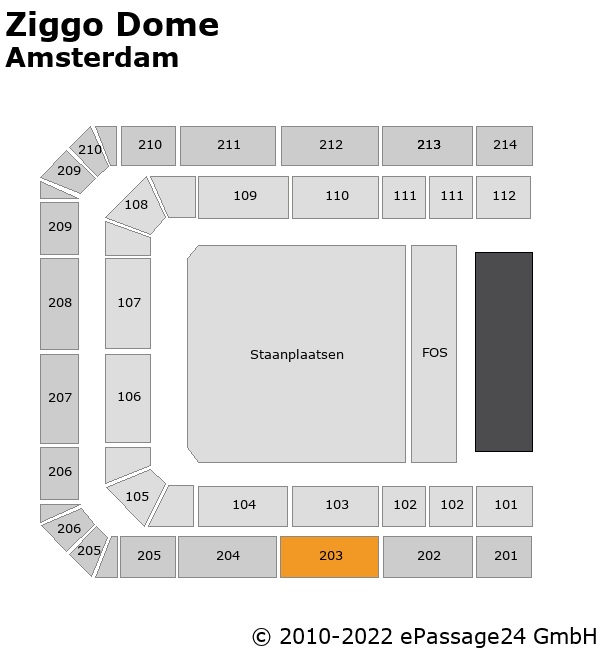 Directions
By Car
If you come by car to the Ziggo Dome the area offers a wide range of parking spaces. You can also make clever use of the P + R network in Amsterdam. Ziggo Dome is located in the heart of Amsterdam Southeast, surrounded by the A1, A2, A9 and A10 motorways. From all directions, find the A2 to come out at Amsterdam Zuidoost. Then follow signs to "Arena Gate". Problems with traffic? Watch the electronic signs above the road, and follow the instructions. Parking spaces can be found in one of the public car parks around Ziggo Dome. At the service desks on the ground floor you can buy parking tickets for the following car parks: P1, P2, P3, P4, P5, P6, P10 and P18.

Public transport
By Train
Near the Ziggo Dome are two train stations: Amsterdam Bijlmer ArenA and DuivendrechtShow. Both stations are within walking distance. Both intercity and sprinters with connections from as Schiphol, Utrecht Centraal, Ede-Wageningen, Arnhem, Nijmegen, Eindhoven, Gouda and Rotterdam stop at these stations.
Coming from the direction of Schiphol, Almere and Amersfoort, take the train to Duivendrecht station. You travel from Amsterdam Centraal and Utrecht Centraal, take the train to Amsterdam Bijlmer ArenA Station.
By Bus
With city and regional bus you can reach the Ziggo Dome, and between Haarlem station and Amsterdam Bijlmer Arena rides the Zuidtangent. Even at night!
By Metro
By subway get off at metro station Bijlmer ArenA , within walking distance of the Ziggo Dome.
Amenities
Train/Tube/Metro
Bijlmer ArenA and Duivendrecht