Little Mix - BST The Ultimate Bar VIP Experience Ticket - 04 July 2020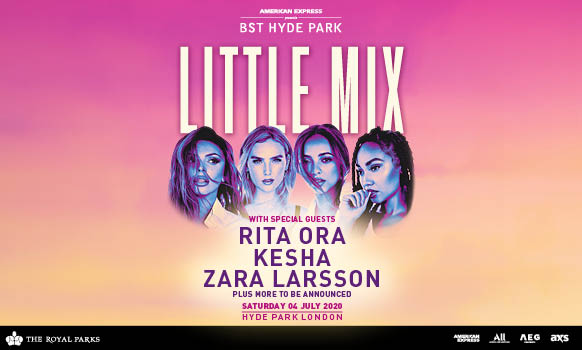 The Ultimate Bar VIP Experience Ticket:
Choice of American Express Garden Ticket (with access to Gold Circle Standing)
or Diamond VIP Experience Ticket (Directly infront of the Great Oak Stage)
Entrance to The Ultimate Bar for the day to relax in style (Exclusive Bar serving a full Range
of Quality Beverages to satisfy your desire with relaxed seating and standing areas - part
covered open canopy)
Complimentary Bar serving Selected Wine/Beer/House Spirits/Non-Alcoholic Drinks
Commemorative VIP Laminate and Lanyard
Access to the Exclusive American Express Summer Garden reserved area
(an exclusive area offering VIP bars, premium food outlets, additional comfortable seating,
separate restroom facilities and cloakroom)
Enjoy a complimentary choice of Premium Food Offerings - (Voucher Activated)
Complimentary American Express presents BST Hyde Park T-Shirt
Additional Restroom Facilities Exclusively for The Ultimate Bar
Dedicated Entrance - With Entry to the event up to 1 hour before the main gates open
Itinerary and Tickets sent in advance
Event Management and VIP Hosts in attendance throughout the event
All Taxes
The Ultimate Bar offers relaxed seating & standing areas - additional seating also available in the adjacent exclusive American Express Summer Garden area and all within a short stroll of The Great Oak Stage and festival site.
TICKET CHOICES:-
DIAMOND VIP EXPERIENCE TICKET (Directly In-Front of the Great Oak Stage) - allowing you to leave and return as you wish.
AMERICAN EXPRESS SUMMER GARDEN TICKET - Providing Access to The GOLD CIRCLE standing area to watch Great Oak Stage performances, allowing you to leave and return as you wish.
Payment Options:- Deposit Only per person or Full Payment (Balance due 8 weeks before event)
All prices are per person including VAT/Taxes

GENERAL INFO - IMAGES-THE ULTIMATE BAR
Disability Access and Personal Assistance Tickets – BST aim is to make sure that BST Hyde Park is fully accessible to anyone who wants to attend. To find out further information please visit BST WEBSITE - We regret that eventtravel do not have Accessible Tickets as part of their allocation.