Circus Maximus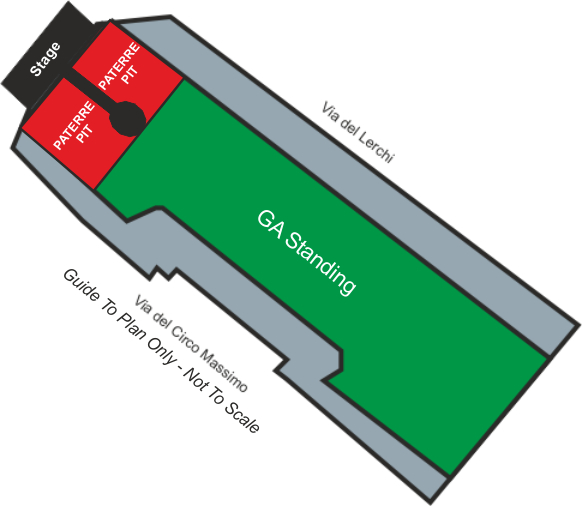 Circo Massimo - Via del Circo Massimo, 00186 ROMA

The Circus Maximus is an ancient Roman circus, located in the valley between the Palatine and Aventine hills . The Circus Maximus appears today as a large green area. In its day it was famous for chariot races . At the time it could hold up to 300,000 people. Today, the Circus Maximus is still one of the greatest sports arenas ever built , home to exhibitions , concerts and large events and shows.

Public transport
By metro
From Termini station Roima : Metro line B, direction Lurentina , Circo Massimo stop
By tram
From Termini Station: Tram 3, stop Aventine - Albania
By bus
From the Roma Termini railway station : bus 75 ( Poerio / Marino) , Circo Massimo stop
by road

From the Roma Termini railway station take Via Marsala and Via Giovanni Giolitti in the direction of Via Cavour. Turn left and take Via Cavour then follow Annibaldi Via and Via Nicola Salvi to Piazza del Colosseo . Get Vibenna Via Celio , on Via di San Gregorio continues in the direction of Viale Aventine .
During major events some roads may be inaccessible .
ITALIANO
Il Circo Massimo è un antico circo romano, situato nella valle tra il Palatino e l'Aventino. Il Circo Massimo appare oggi come una vasta area verde dove i romani si allenano o portano a spasso i cani ma nell'antichità era destinato solo a competizioni sportive e atletiche di vario tipo, diventando famoso soprattutto per le corse dei carri. Nei momenti di massima affluenza poteva
Public transport
In metro
Dalla stazione Roima Termini: Metro linea B, direzione Lurentina, fermata Circo Massimo
In tram
Dalla stazione Roma Termini: Tram 3, fermata Aventino-Albania
In autobus
Dalla stazione Roma Termini: autobus 75 (Poerio/Marino), fermata Circo Massimo
By road
Dalla stazione di Roma Termini prendi Via Marsala e Via Giovanni Giolitti in direzione di Via Cavour. Svolta a sinistra e imbocca Via Cavour poi segui Via degli Annibaldi e Via Nicola Salvi fino a Piazza del Colosseo. Prendi Via Celio Vibenna, continua su Via di San Gregorio in direzione di Viale Aventino.
In occasione di grandi eventi alcune strade potrebbero essere inaccessibili.