Etihad Stadium Manchester Ed Sheeran 2022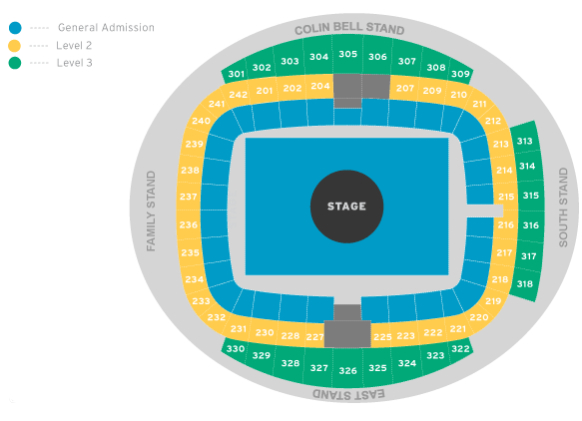 Walking

There is a safe, well lit and signposted walking route available from Manchester Piccadilly Station. Follow the 'City Link' signs. It will take approximately 25 minutes to walk to the Etihad Stadium from the city centre.
Cycling

There are a number of bike racks around the stadium. The Club accepts no liability and all bikes are left at their own risk.
Buses

There are bus stops adjacent to the stadium. At the end of the match buses will be lined up on Ashton New Road next to the South Stand heading to Manchester city centre. Further information is available at tfgm.com or via Twitter @OfficialTfGM

Metrolink
Our dedicated tram stop, Etihad Campus is adjacent to the stadium, located in City Square.
Metrolink runs from the city centre including. Manchester Piccadilly station to Etihad Campus stop and on towards Ashton. The journey time from Piccadilly is less than 10-minutes. On event days, trams run to/from the stadium stop every 6 minutes.
Tickets must be purchased before travel, ticket machines are located on every Metrolink platform.
Please note that both Holt Town and Velopark Metrolink stops, located on either side of the Etihad Campus stop, will not be open for at least an hour after an event at the Stadium so we strongly advise you to use the Etihad Campus stop for your return journey.

Metrolink Park & Ride

Journeys to the stadium are really easy from the many Park & Ride sites on the Metrolink network. Parking is free for Metrolink passengers. For those travelling from the east or north there are two large Park & Ride car parks located at Ashton West and Ashton Moss.
The journey time to the Stadium is less than 25-minutes. Click here for more information about Metrolink Park & Ride. Please note the consumption of alcohol is strictly prohibited on Metrolink trams.

Car Parking

Pay on the day car parking is available on site in the Blue Car Park's G & H, accessed from Alan Turing Way (Gate 2).* Parking prices are as follows:**
Car - £10
Coach and minibus – free of charge
Motorbike – free of charge View our car parking map.
* Gates will be locked and cars are left at own risk overnight.
**Prices correct at time of publication and any changes will be clearly displayed on the day.

Accessible Parking
Disabled parking is available on-site in the Blue car park, however it is limited due to the number already allocated to our seasonal supporters. Please call our Disability Access Officer on +44 (0)161 444 1894 (option 1, 1, 1) to discuss further. You can find out more at mancity.com/access.
Information

General Rules:
No glass bottles or cans may be brought into the stadium. No alcoholic beverages may be brought into the stadium (although alcohol may be purchased within the stadium). Smoking is permitted in restricted areas only. Children under the age of two will be admitted free if they do not occupy a seat.
Children Rules:
There is no minimum age of admittance.