Festhalle Frankfurt Robbie Williams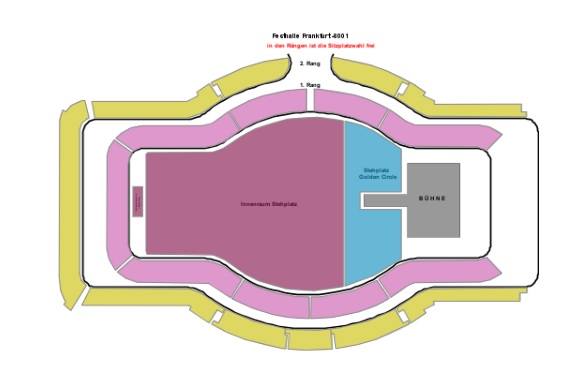 Address
Messe Frankfurt Venue GmbH & Co. KG
Festhalle
Ludwig-Erhard-Anlage 1
60327 Frankfurt a. M.

Directions
Arrival by car
A low emission zone (Umweltzone) is planned for the city of Frankfurt. As of 1 October 2008, this zone can only be accessed by vehicles belonging to Pollutant Groups 2 to 4 and bearing the relevant pollution badge. Pollution badges for vehicles from Germany and abroad indicating the relevant Pollutant Group can be ordered at www.umwelt-plakette.de.
How to get to Frankfurt
Take autobahn A 3 if arriving from the direction Köln-Koblenz, or the A 5 if arriving from Hamburg-Hannover-Kassel; the Ruhr District is connected via the A 45. In east-west direction, the most important connections are the A 3 (München Würzburg) and the A 66 (Fulda) and from the south, the A 5 (Basel Karlsruhe) and A 67 (from Darmstadt). Travelling from the west, the A 60 (Bingen-Mainz) and A 66 (Wiesbaden) will lead you to Frankfurt.

By train
Frankfurt is easy to reach by public transport. Almost all long distance and express trains, from IC to ICE stop at Frankfurt's main railway station (Hauptbahnhof), from where it is only a short walk to the Festhalle.
By suburban train (S-Bahn)
If you come by suburban train (S-Bahn), take lines 1, 2, 3, 4, 5 or 8 to the main railway station (Hauptbahnhof), from where you have the choice: by foot in 10 minutes or by tram 16 straight to the Festhalle.
By Underground (U-Bahn)
The U-4 from the central station will take you to the City entrance station in less than 5 minutes. (route to Bockenheimer Warte)
By tram
Leave the station building through the main exit and cross over the station square until you get to the tram stop. Tram lines 16 and 19 will take you from here to the Festhalle Messe Frankfurt, as will any special trams that might be running (V Lines). The third stop is "Festhalle/Messe".
By bus
Routes 32 and 33 stop in front of the Festhalle.
Information
The Festhalle, is set against the modern skyline of Frankfurt and offers a wealth of character for major events. The Festhalle is home to so many different events, including concerts, tournaments, cultural events, corporate days, product launches, conferences, exhibitions and gala dinners.