Hampden Park Pitch Standing - Ed Sheeran 2022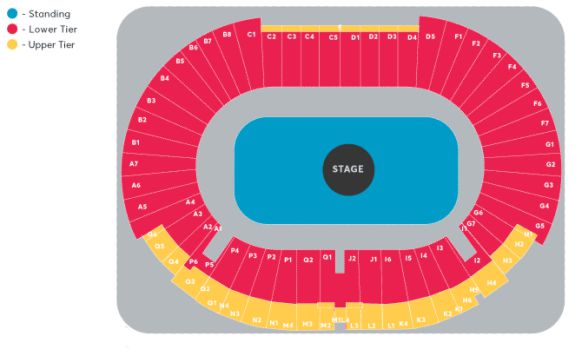 Directions
Train Service between Hampden Park and Glasgow Central Station.

There are two train stations which are within easy walking distance of Hampden Park.

Mount Florida Station, approximately a five minute walk to Hampden, has a very frequent service, with trains from Glasgow Central approximately evey ten minutes. The last train from Mount Florida to Glasgow Central departs at 2343 hours and arrives in Glasgow at 2353 hours.

Kingspark Station, approximately five/ten minutes walk away, has two trains an hour arriving from Glasgow Central. The last train to Glasgow Central from Kingspark departs at 2321 hours, arriving in Glasgow at 2338 hours.

Glasgow City Centre Bus Services

Bus No. 5 runs from St Enoch to Carmunock Road every 6 mins before 6pm
Bus No. 31 runs from Stockwell Street to Letherby Drive/Cathcart Road
Bus No. 37 runs from Stockwell Street to Letherby Drive/Cathcart Road.
Bus No. 75 (75a) runs from Argyle Street to Aikenhead Road
Buses No. 89&90 are Circular Route buses which run past Aikenhead Road every 20 minutes, but they avoid the city centre.
Parking
Please note there is no public parking in the vacinity of the stadium on major event days as Glasgow City Council's event day parking zone is in operation. Patrons are advised to visit the stadium via public transport.
The event day parking zone is to prevent spectators parking with residential areas close to Hampden Stadium.
The significant attendance at events can attract many extra vehicles towards the venue, where, despite alternative parking and transport provisions being put in place, adjacent residential areas seem to be an easy option for those looking to park for the duration of the event. For this reason, parking controls have been introduced during relevant events only.
Resident's parking permits are free for each vehicle registered at their home address and visitor's parking permits are available at a one-off cost of £10 per permit. Businesses will also be issued free parking permits for each of their employees. During a relevant event, only vehicles which display a valid permit or a disabled person's badge will be eligible to park in any of the restricted streets.
This scheme should effectively discourage all other motorists, who may be attending an event at Hampden Stadium, from using the area as a car park to the detriment of road safety and the ggeneral amenity of the area.

Information
Hampden Park in Glasgow is Scotland's national stadium. Its primary use is as the home to Queen's Park F.C. and the Scotland national football team. It is also used for music concerts and other sporting events.
Hampden was built in 1903, though all signs of the original stadium are long gone. It is known throughout the world as an iconic home of football and celebrated its centenary on 31 October 2003. The stadium also houses the offices of the Scottish Football Association, SPL and Scottish Football League. During the 2012 Olympics it will also host games during the early stages of the Olympic football tournament. It has also hosted prestigious sporting events such as the finals of the European Cup (now the UEFA Champions League) and the UEFA Cup.
Hampden will be the key stadium of the 2014 Commonwealth Games. It will host the athletics during the tournament, Glasgow having been announced as the host city on 9 November 2007.
The stadium is served by the nearby Mount Florida railway station.