Holiday Inn London Kensington Forum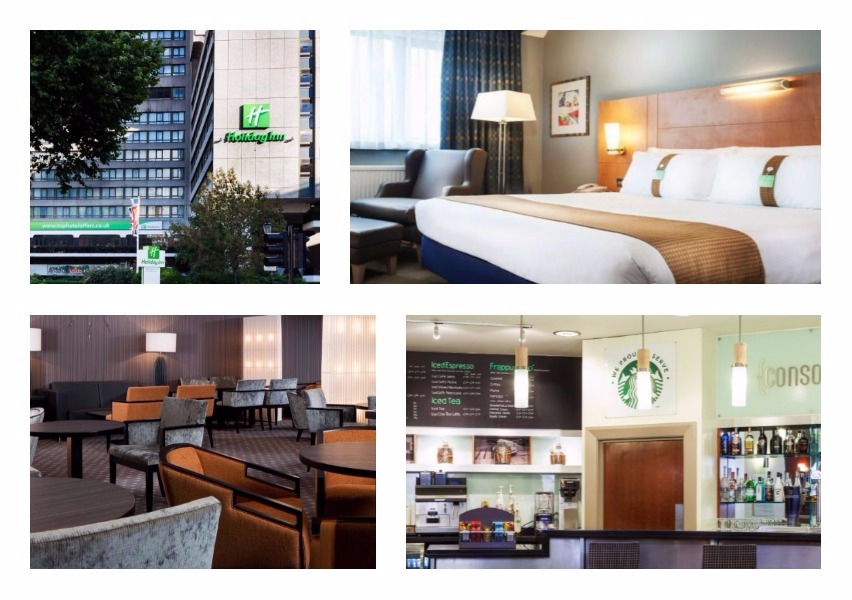 Description
Holiday Inn London - Kensington Forum is at the centre of one of London's most luxurious areas; South Kensington. Positioned in a great area with easy access to many of the city's notable visitor attractions, this Kensington hotel is a comfortable and convenient option for anyone looking to enjoy a stay near central London.
While the vibrant city atmosphere is the reason that many people visit London, we know that hotel comfort is vital too. At Holiday Inn London - Kensington Forum you will find that rooms are prepared to ensure you have everything you need for that relaxing 'home away from home' feeling. We make sure the basics are done right, with exceptional comfort and cleanliness, and then we go above and beyond by delivering free high speed internet access, Starbucks coffee, and more.
Rooms
The standard rooms at Holiday Inn Kensington Forum afford visitors exceptional levels of quality, comfort and value for money. With access to top-notch hotel facilities, such as 24 hour room service, each room also comes with complimentary tea and coffee making facilities, so you can take time out to relax with a brew at any time of your choosing. The choice of standard rooms is superb, too. At Holiday Inn Kensington Forum, we offer single or double bedded standard rooms. For those guests that are part of a larger party, then many of our standard bedrooms can be booked as inter-connecting, subject to availability.
Along with a complimentary range of toiletries offered in each of our standard rooms, there is also a hair dryer available for guests to take advantage of. Wireless connectivity to smart devices and laptop computers is also available within each room, so you need never be out of contact with friends and family during your stay with us. Indeed, the room's telephones can be used with a direct dial number, so you need never miss a call.
Each of the standard rooms has recently been upgraded with plush furnishings, such as new, curved shower rails which give a more spacious feel. They have also introduced new beds and new carpets throughout along with other room features. When you want to be entertained, there is an LCD television at your disposal with all of the latest shows on offer.
In addition, all of the standard rooms in the hotel come with a choice of pillows from our pillow menu. To help make sure that you get the most restful night's sleep, selecting the sort of pillow that suits you best will have you in the land of nod within minutes. Relaxing in such comfort and style is child's play with the choice of standard rooms on offer in the hotel, no matter what reason you have for staying.

Dining Options
Whether you're looking for elegant continental cuisine or a light snack, a refreshing pint or the perfect cocktail, a hearty breakfast or a succulent pizza, you'll find them all at the London Kensington Forum Hotel. When it comes to eating in the hotel, they believe in providing for every taste. In the elegant Consortia Restaurant you can enjoy a full European menu or just a drink and a bite to eat. Our pub the Cromwell Tavern serves up a warm welcome along with its chilled beers, world wines and spirits. You can take your pick of Continental or English breakfast served in the hotel's Forum Room and we offer guests room service 24-hours a day.
Location
The hotel is only a few minutes' walk from Gloucester Road tube station; meaning you can quickly reach anywhere in the city from the hotel. Within no time at all you can travel from the hotel to iconic city attractions like the London Eye, Tower Bridge, Hyde Park, and many more. The hotel is also very close to the idyllic Kensington Gardens in the estate of Kensington Palace, the Natural History Museum and luxury shopping in Knightsbridge; home to the world famous Harrods.
Leisure
24-hour fitness centre with state-of-the-art equipment.

Directions
London Heathrow (LHR) Distance: 14 MI / 22.53 KM East to Hotel Taxi Charge (one way): £48.00* (GBP) Time by taxi: 36 minutes Train Charge (one way): £14.00* (GBP) Time by train: 30 minutes, with a direct connection on the Piccadilly Line to Gloucester Road Tube Station
London Gatwick (LGW) Distance: 37.4 MI / 60.19 KM North West to Hotel Taxi Charge (one way): £65.00* (GBP) Time by taxi: 1 hr Train Charge (one way): £14.00* (GBP) Time by train: 35mins
London City Airport (LCY) Distance: 12.4 MI / 19.96 KM West to Hotel Taxi Charge (one way): £45.00* (GBP) Time by taxi: 52 Minutes Train Charge (one way): £10.00* (GBP) Time by train: 1HR
Victoria Station Distance: 2.5 MI / 4.02 KM West to Hotel Taxi Fee From Train Station: £10.00* (GBP)
Gloucester Road Distance: 0.5 MI / 0.8 KM West to Hotel
* All travel times and fairs are approximate. Please check detail with the concierge.
Nearest Tube/Metro
The closest tube station to this hotel is Gloucester Road.

To view the route on Tubeplanner, please click here.

All information is provided in good faith however descriptions and facilities may be subject to change - Official Website
Amenities
Location
Kensington - London
Train/Tube/Metro
Gloucester Road