Jurys Inn Manchester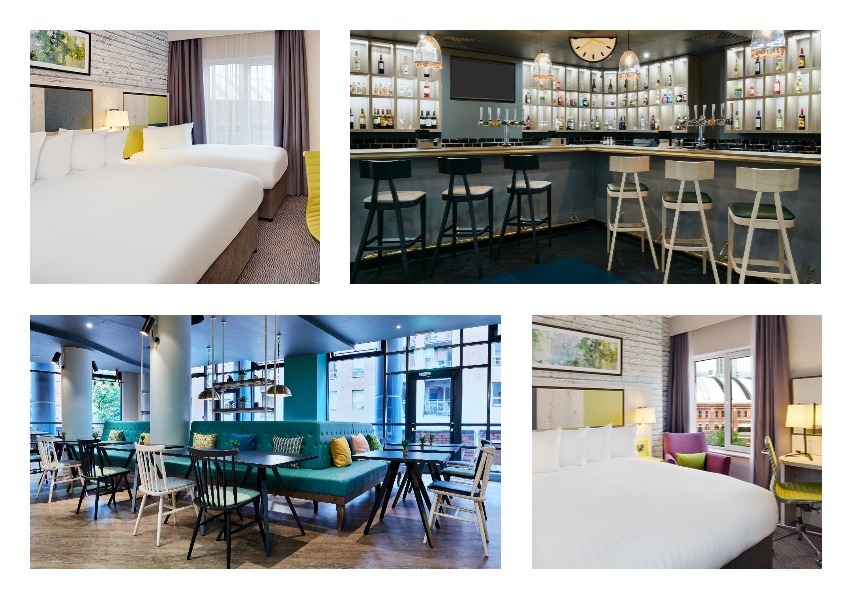 Description
Manchester has always been wide in its tastes, from architecture to the arts, and it's all yours to explore from the central comfort of Jurys Inn hotel in Manchester on Great Bridgewater Street. With the Jurys Inn Manchester hotel, you have a hotel near Old Trafford, the City of Manchester Stadium, the city's conference centre Manchester Central is next door and the cosmopolitan choices – like narrowing down where to shop and visit – are probably the toughest decisions you'll face. Enjoy! Newly renovated in 2017!

Facilities and Services
Rooms
The Jurys Inn Manchester has 265 spacious rooms perfectly designed for a restful and comfort filled stay. All rooms are furnished with a large soft bed, a well-lit desk, TV with Freeview and an en-suite bathroom with complimentary toiletries. Hotel rooms accommodate up to three adults or two adults and two children under twelve and also feature free WiFi.

Dining Options
You need not be a guest at Jurys Inn Manchester hotel to stop by for a cheeky cocktail or a family feast; whether you're a bona fide Mancunian or a day-tripper - why not pop in and say hello? The latest addition to Manchester's thriving restaurant scene; ODDSOCKS is now open, and waiting to welcome you.
Once you've taken a seat, dive into their carefully-crafted menu which makes sure to cater for all tastes and appetites. There's plenty of hearty British fare on offer, such as the traditional pork & leek sausages & mash, while those on a health-kick will love the Mezze Salad; packed full of spinach, feta, olives and roasted red peppers.
If you've been out exploring Manchester's night life or decided to have a lie-in, the breakfast buffet is available until 11am with a great selection of hot and cold items to get you on your way for the day ahead.
Of course, it isn't all about the food. Whether you're looking to celebrate on your weekend getaway or are heading for some post-work pints in the area, they've got just the tipple. They're delighted to bring you a fantastic range of regional bottled beers and a selection of wines and spirits.

Location
This hotel is easily accessible from Piccadilly station (via metro link). Parking is available just 2 minutes from the hotel at Manchester Central and the city centre is just a short stroll away.
Manchester Central Tram Stop - 0.25 miles
Located across the road from the hotel, the tram gives you direct access to the city centre & Piccadilly Train Station.Descend metal staircase from Manchester Central Tram Station, Turn Left towards set of Traffic Lights facing the Hacienda Appartments. Turn Left again over the Canal Bridge and head towards next set of Traffic Lights. Jurys Inn is located on your right hand side after the Britons Protection Pub and directly facing the Bridgewater Hall.
Manchester Piccadilly Station - 1 mile
Either a 10-minute walk or a short journey on the Tram from Manchester Central Tram Stop. From the front of the hotel, turn right and proceed to Oxford Road. Proceed straight ahead up Portland Street to Picadilly Gardens. Take the right exit at the top of Piccadilly Gardens and Piccadilly Train Station is directly in front of you as you walk along London Road.

All information is provided in good faith any inaccuracies please CONTACT US Thank you.