Jurys Inn Newcastle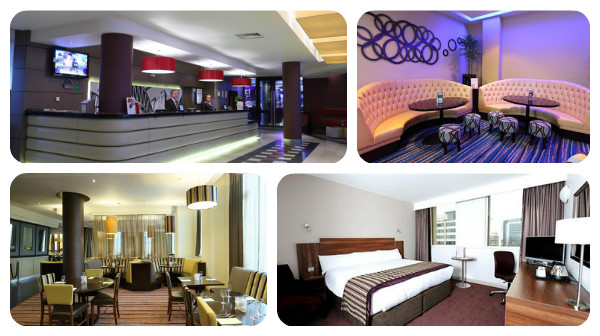 Description
Located in the city centre, Jurys Inn is one of the most convenient hotels in Nwcastle, perfectly placed to enjoy all the city has to offer. Just a short 5 minute walk from Newcastle Central Station, the hotel offers easy access to transport links in and around the city.
Bedrooms
Jurys Inn Newcastle offers 274 stylish and comfortable hotel rooms. The rooms are spacious and include large soft beds, en-suite bathrooms with complimentary toiletries, flat screen TV's with Freeview, work area and free Wi-Fi internet access. Bedroom amenities include:
Spacious room
Free WiFi
Flat screen TV with Freeview
Hair Dryer
Tea and coffee refreshment dock
Spacious bathroom with toiletries
Spacious well-lit work area
Selection of pillows available
Location
The hotel is ideally located only a short walk from the central station and is easily accessible whether travelling by car or using public transport. The hotel is a 15 minute drive from the airport so is well placed for anyone who needs to stay before a flight.
Please note this hotel is a 30 minute journey time by taxi to the Stadium of Light (Sunderland). Public transport is available (approx 40 minutes).
Car Park
Jurys Inn Newcastle have teamed up with two local car parks to get discounted rates for guests:
Times Square Car Park located next door to the hotel to offer guests specially discount parking rates as follows:
Overnight rate - £8.00 (between 10 - 24 hours)
Weekly Pass Card* - £24.00 (Mon – Fri)
Weekly Pass Card* - £30.00 (7 days)
Weekend Special** - £18.00 (Friday after 15:00 to Sunday before 19:00)
Conference delegate rate*** - £4.00 (3 - 10 hours)
*Weekly permits must be purchased on arrival from the Car Park office Located on Level 1.
**Weekend special must be purchased on arrival from the Car Park office Located on Level 1. This pass card will allow customers to come and go as they please within the time bands applicable.
***Guests attending a conference need to have their parking tickets stamped at the conference reception to avail of the discount delegate rate.
Please be advised that lost parking tickets will be charged at the Full Daily Rate at £12.00 per day (overnight incur a 2 day minimum).

Arena Car Park, Railway Street, is just a minute walk away from the hotel. The special disount rates are as follows:
Overnight Rate - £7.00 (24 Hour)
Weekly Pass - £22.00 (Mon-Fri)
Weekly Pass - £25.00 (7 days)
Weekend Special - £15.00 (Friday-Sunday 6pm)
All information is provided in good faith any inaccuracies please advise [email protected] - Thank you.