Mannheim SAP Arena Seated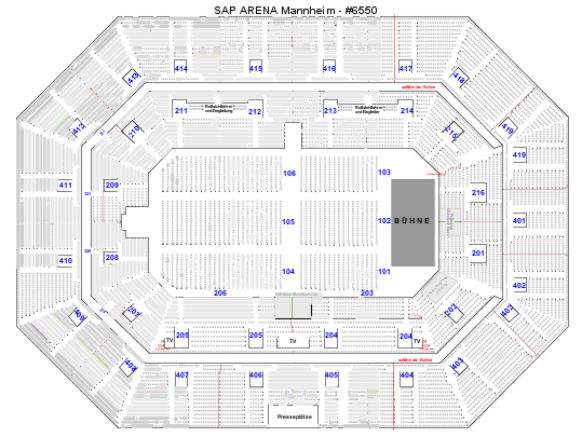 Sponsored by SAP, the high-tech arena opened on September 2, 2005, and is considered one of the most technologically advanced multifunctional spaces in Europe, providing an outstanding venue for world-class sports and entertainment. The arena hosts approximately one million visitors to over 100 events throughout each year.
Impressive and inspiring, the architectural beauty of the building is matched by the technology used to operate and manage the interior space. In just hours, the SAP Arena can transform itself from an ice hockey pitch to handball field, and then to a state-of-the-art concert hall.
The 44,200 square-meter space can accommodate a wide range of events and presents a unique place for meetings and conferences. Exciting acts coming to the SAP Arena in the coming months include the English rock bands Depeche Mode and Placebo, and Cirque du Soleil – Saltimbanco.
Directions
A tram line (Number 6 Line) is connecting the SAP Arena to the Mannheim city center and a newly build connector to the state highway (Bundesstrasse) B38a connects to the federal highway (Autobahn) A656, leading to the A656/A6 interchange, connecting eastbound Mannheim to Heidelberg (A656), and north/southbound to Frankfurt, Karlsruhe and Stuttgart (A6), as well as a little north on the A6 to Kaiserlautern (westbound).
Address
Betriebsgesellschaft der Multifunktionsarena Mannheim mbH & Co. KG
Xaver-Fuhr-Str. 150
68163 Mannheim