Motorpoint Arena Nottingham - N-Dubz 2022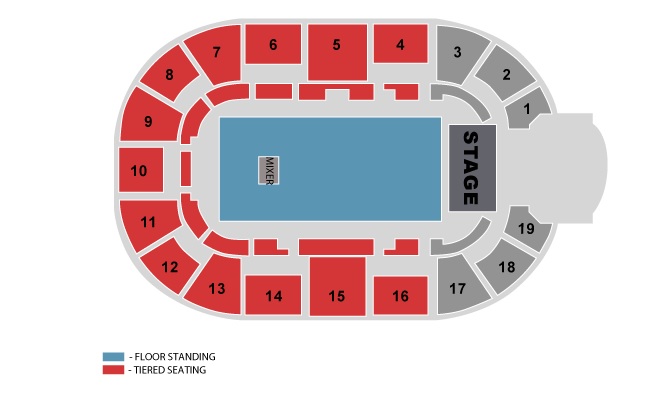 The Motorpoint Arena Nottingham (formerly Capital FM Arena Nottingham) provides the East Midlands with a top quality indoor sports, entertainment and conference venue right in the heart of the £43 million National Ice Centre and in the city's fashionable Lace Market.
The Motorpoint Arena Nottingham, which is based inside the National Ice Centre, was opened to the public on 1st April 2000 by ice skating legend Jayne Torvill and was given the royal seal of approval by HM the Queen on July 31 2002.
Getting to Motorpoint Arena Nottingham
Rail
Nottingham Train Station is a 10 minute walk from the venue. Follow signs which direct you to the Lace Market and keep your eye out for grey signs which are dotted en route to the "National Ice Centre". For timetable and fare information contact National Rail Enquiries on 0845 748 4950. Northern Rail offers regular local and regional train services between Leeds and Nottingham.
Bus
Nottingham has two main bus stations, Broadmarsh and Victoria, each of which are a 10 minute walk from the centre. Again, follow the signs to the Lace Market and keep an eye out for the grey signs. The NCT bus service 44 drops you right outside the Arena when coming from town with the 45 and Link2 passing the Arena on their inward journey. Services 21, 23, 24, 25 and 27 all go past the Arena in both ways.
Tram
Nottingham's state-of-the-art tram system passes really close to the Motorpoint Arena Nottingham. The 'Lace Market' stop on Fletcher Gate is a three minute walk away. Trams run at least every 10 minutes until midnight (more frequent at peak times). In addition there are five free Park and Ride sites on the system. An all-day tram ticket costs just £2.70. Find out more at: www.thetram.net or call 0115 9427777. A CityRider ticket at £3.20 gives unlimited travel on tram and NCT bus for the day.
Car Parking
The City Centre has a variety of Car Parks within a 5-10 minute walk of the Arena. Please see below.
Car Parks within 5 minutes walk of the venue
Fletcher Gate (City Council) – 520 spaces
Stoney Street (NCP) – 350 spaces
Car Park within 10 minutes walk of the venue
Broadmarsh Centre (City Council) – 1200 spaces
Huntingdon Street (Metro Car Parks) – 250 spaces, only £2.00 from 5pm – 8am
Victoria Centre – 1050 spaces plus with prices starting at £3.50
Car Park greater than 10 minutes walk of the venue
Mount Street (NCP) – 500 spaces
St James Street (NCP) – 275 – 475 spaces
Royal Moat House (part of Crowne Plaza Hotel) – 625 spaces
Talbot Street – 440 spaces
Our top tip is not to necessarily head for the car park nearest the Arena as that is what everyone else will do. An extra 5 minutes walk could save you an extra 30 minutes at the end of an event.
The Motorpoint Arena Nottingham is a non-smoking venue