P & J Live Aberdeen (Seated)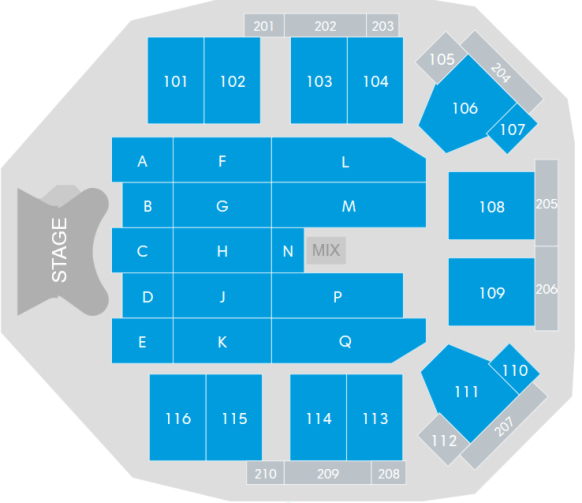 P&J Live
East Burn Road,
Stoneywood,
ABERDEEN,
AB21 9FX
On Foot
P&J Live is only 1.5 miles (15-minute walk) from both Aberdeen International Airport and Dyce Train Station. With many paths surrounding the complex.
Bus

Stagecoach standard services will run through the event complex daily. P&J Live will also be served by the PJ1 by Stagecoach for specific events and the Jet 727 runs daily.
Rail
P&J Live is just 1.5 miles from Dyce Train Station which offers regular connections north and south for event visitors travelling by rail
Road
P&J Live is conveniently situated for motorists, about 6 miles north-west of the city centre and easily reached from the A96 Aberdeen-Inverness road. Getting to P&J Live has never been easier, the southern section of the Aberdeen Western Peripheral Route is now open, and we are positioned just a few minutes from it. Please enter via Dyce Drive or A96 if travelling southbound, as other entry points are bus gates only. You may exit via all three exits, at the A96, Dyce Drive and Wellheads Drive.
Parking

The venue strongly urge visitors to P&J Live to utilise the alternative transport options that we have available. If you are parking onsite there are various methods to pay for your parking: On site payment machines: We accept both cash and card payments on site, pay on exit is required by entering your vehicle registration at any one of our machines located in the car parks. Please note payment machines only take coins and not notes. APCOA Connect App: Up to 1 hour after you have left the venue, you can pay for your parking on the APCOA Connect App. Once you have downloaded the app, use location code 6680 for the Sub-T Car Park (underground) and location code 2356 for the Overground Car Park. - The venue recommends reverse parking for ease on exit.
If you are dropping off or picking someone up from an event, please note the maximum wait time in our car parks is 30 minutes. Parking charges will apply if your car is within the car park for more than 30 minutes. This also applies if you cannot find a space, you will not be charged if you exit the car park within 30 minutes.
Park & Ride
Aberdeen City Council provides three park and ride facilities within the city and shire. The sites are situated on major routes into the city from Kingswells, Bridge of Don and Craibstone and will serve P&J Live on their route. Please find more details
Taxi
There is a taxis pick-up and drop-off point located on the P&J Live site, as well as a dedicated taxi rank in operation during major events.
Drop-off & Pick-up
A drop-off and pick-up point is situated beside the Taxi rank, please follow signage. Maximum stay is 30 minutes.

NB: Information is provided as a guide only and may be subject to change