Park Inn by Radisson Manchester City Centre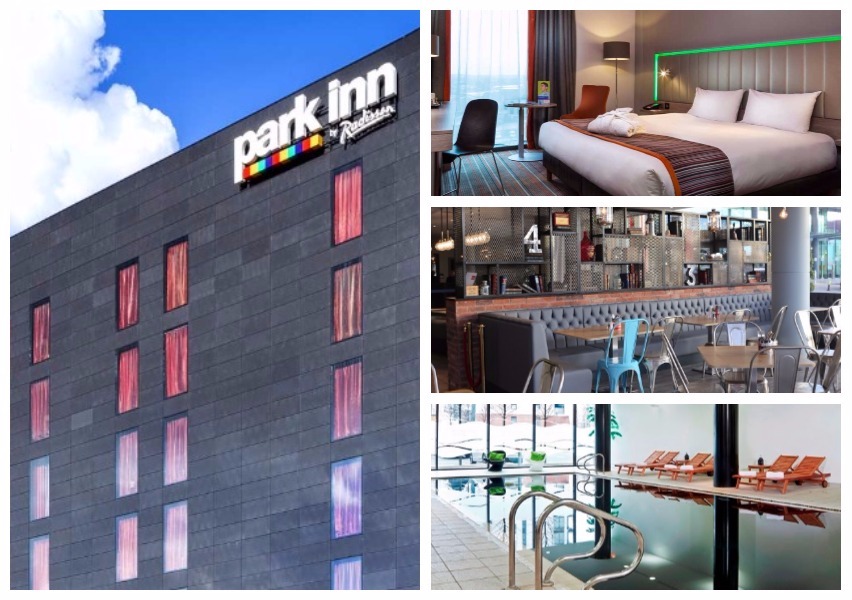 Description
Guests staying at this vibrant Manchester hotel enjoy the comfort of one of our 252 rooms and suites amid the bustle of the city centre. Our convenient central location means guests are within walking distance of premier attractions. The hotel is located directly opposite the arena, making it a perfect place to stay if you are visiting for an event. You can find parking at the National Car Park (NCP) directly opposite the hotel, which offers a discount for hotel guests.
On-site dining and fitness facilities complete the comforts of the Park Inn by Radisson Manchester City Centre. Round out your stay with a tasty meal in the RBG Bar & Grill and a workout or spa treatment at the hotel's health club.
Rooms
This Manchester accommodation features 252 vibrant guest rooms, including six Suites. The convenient amenities and outstanding comfort of our Standard Rooms guarantee a relaxing stay, whether you're visiting for business or pleasure. Take in the cityscape view from our floor-to-ceiling windows while sipping a complimentary coffee or tea.
Each room includes 24-hour room servide, air conditioning, direct-dial telephones, free high-speed Wi-Fi, a hairdryer, an in-room safe and an LCD TV with satellite channels.
Dining Options
The recently refurbished RBG Bar & Grill is just the ticket before or after setting out to explore the delightful city of Manchester. The restaurant's cosy setting welcomes guests to relax and enjoy a local speciality or an international selection, from steaks and burgers to salads and soups. The adjacent terrace is the perfect addition to the restaurant and bar and overlooks the unique Green Quarter.
Location
The Park Inn is in a convenient city-centre location. Guests are within walking distance of cultural events, shops and nightlife, making this hotel an ideal base for exploring Manchester and its attractions. The hotel is located across from Manchester Arena, so it is a great place to stay following an event. Near the Northern Quarter, the Park Inn is a short walk from the National Football Museum and Manchester Cathedral and close to the Museum of Science and Industry. Avid shoppers can get their fix at high-end fashion retailers at Arndale Shopping Centre. This Manchester city-centre hotel's location puts you minutes away from world-famous retailers and marvelous restaurants.
Nearby transport stations make getting around the city easy. The Park Inn by Radisson Manchester City Centre, situated near Trinity Way, is in easy reach of major motorways.
Victoria rail and tram stations – 300 m (4-minute walk)
Piccadilly Bus Station – 1.3 km (16-minute walk)
Manchester International Airport (MAN) – 19 km (20-minute drive)
Guests can find parking at the National Car Park (NCP) directly opposite the hotel. A discount is offered for hotel guests.
Leisure
PACE Health Club and Nu Spa
Our on-site PACE Health Club & Nu Spa offers spa and fitness services. Guests can pamper themselves at our state-of-the-art spa or maintain their fitness regime while away from home.

Pace Health Club is a fully equipped modern gym that offers fitness classes, personal trainers and membership packages. Hotel guests can access the facilities free of charge, and non-guests can use the gym for a nominal fee.

Indulge yourself at Nu Spa. This rejuvenating facility offers a variety of relaxation and beauty treatments for both men and women.

All information is provided in good faith any inaccuracies please CONTACT US Thank you.