Point A Hotel - Liverpoool St - London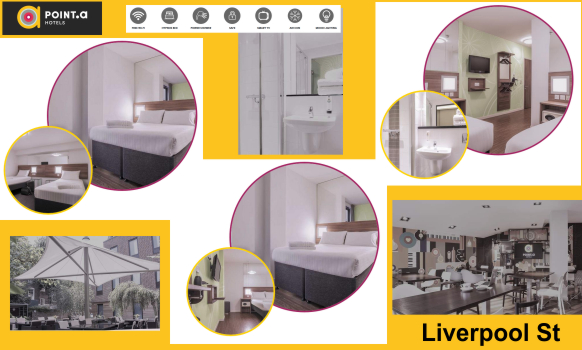 Point A Hotel Liverpool Street:- 13-15 Folgate Street, London E1 6BX

Rooms include: FAQ's
Comfy Hypnos beds
Great power showers
40 inch smart TV
Hairdryer, mood lighting and more
Air-Con
Mood Lighting
Safe
Free Wi-Fi

Transport
The closest Underground/Tube/Metro station to this Hotel is Liverpool Street (Multiple lines)
To Hyde Park 19 Mins (1 Change)- Central Line Change at Holborn (Piccadilly Line (West bound) - Plan your route

Nearest Stations - National Rail
Liverpool Street
Moorgate
Old Street
Liverpool Street
Shoreditch High Street

There is also an ironing room that can be found on every floor, so you can still look the part at that fancy dinner or important business meeting. The hotel staff make sure you have the comfiest stay and at unbeatable value. So check in, put your feet up and relax like you've just got home.
Point A hotels is a family business founded by entrepreneurs. With a history of over 50 years of hospitality experience, the company started with a small B&B and as the business grew, the chain kept true to its heritage.
A hotel should never just be a room. Price should never mean you feel like you're just another number. Point A believe everyone, whenever they travel, should feel more than welcomed, they should feel like they belong

Heartfelt, sincere hospitality has shaped our, past, present and future.
Parking
The closest car park to the Point A London Liverpool Street Hotel is The Broadgate Car Park, EC2A 2EW. However this and other car parking places in Liverpool Street are quite expensive (£35-50 per 24 hours), so we suggest to use public transport such as taxis and underground links wherever possible.

Local Connections
Whatever the action is, you couldn't be closer to it if you tried. On a quiet cobbled street, your Point A Hotel Liverpool Street is just 5 minutes' walk from the bustling Liverpool Street Station. Stay right in the heart of the City and moments from the iconic Spitalfields Market. You've got the Square Mile in one direction, hipster Shoreditch in the other and bang in the centre of it all is Point A Liverpool Street.
With the biggest names in banking just a stone's throw away, it's easy to assume eating and drinking round this way needs a City-sized wallet, but that's certainly not the case. Variety is the spice of Liverpool Street life. Where else would you find a living time capsule, a cage-fight-inspired golf course and swank City cocktail bars all within 10 minutes of your hotel? Liverpool Street really has got it all.
Our hotel offers a lovely light breakfast to set you up for the day, so make sure you include in your booking. And to top it all, we will let you in on a secret, there is a hidden lovely garden at the back, so if you fancy breakfast Alfresco, or simply a smoke, you don't even have to step outside our doors, just the garden ones. Amid high rising buildings and bustling life our hotel garden provides a green haven. And breathe!
We know the importance of being in the right spot, but that doesn't mean you have to stretch your budget or compromise because we never do.
We only develop hotels right in the heart of the action with great transport links.
Our engagement in the local area means we are part of the fabric of the community. We celebrate this not only within our walls with local artwork, but through our strong local connections and partnerships.
They are our neighbours.
FAQ's
What room types do Point A Hotels offer?
At Point A Hotels, we like to keep things simple. We only have two room types: Double and Twin but both rooms can come without a window, or as an accessible room.
How big is my room?
Our rooms are compact and cleverly designed to give you everything you need to get you ready for your point b. You can store your luggage under your bed and make use of dropdown tables, handbag hooks and other space savers. All our rooms are clean and clutter-free and have ensuite bathrooms with power showers.
Room sizes vary hotel by hotel, but generally are 8-12sqm.
What will I find in my room?
Every room has a super comfy bed with a luxury Hypnos mattress, plenty of under-bed storage and a sleek dropdown desk. There is a flat screen TV with plenty of channels and lots of handpicked information about the neighbourhood. All Point A Hotels offer Fast&Free WiFi so you can stay connected. Each room has a full-length mirror, a hairdryer, hanging space for clothes and easy to reach plug sockets. In your ensuite bathroom, you'll find a great power shower with shampoo and shower gel and towels. Because we know each guest is different, you can control your own mood lighting and air conditioning using the control panel in your room.
Does my room have air conditioning?
Yes. You can control the temperature and fan speed using the control panel in your room.
Do I need to bring toiletries?
There's no need, every bathroom has shower gel, shampoo and hand wash.
Can I borrow an iron?
Yes of course. Every Point A Hotel has ironing facilities. Speak to the team and they can point you in the right direction.
Do all the rooms have a window?
To offer our guests great value right in the heart of the action, some rooms have windows and some don't. You'll be able to choose a room with or without a window.
Does my bathroom have a bath?
No, but instead you'll find a great power shower.
Can I make tea and coffee in my room?
There's no kettle in your room, however, you can always pop down to reception where you can purchase tea, coffee, drinks and snacks at any time throughout the day or night.
Do you have accessible rooms for guests with disabilities?
At Point A Hotels, we do everything we can to make our hotels accessible to all. We have a number of wheelchair-accessible rooms, which are bigger than our standard rooms with space for wheelchairs to turn, come with a wet room with fixed and movable shower heads, a shower seat and emergency assistance alarms in both the bedroom and the bathroom. These can be booked online. If there is anything we can do to make your stay more comfortable, contact the team at the Point A Hotel you wish to stay at. Contact details can be found on the Contact us page.
Do you provide cots?
We're sorry, our rooms aren't designed with space for a cot and we don't provide these.
How many guests can stay in one room?
Point A Hotel rooms are designed for no more than 2 guests.
How do I use the lights?
You're in control of the lights in your room. When you're in your room, you'll need to insert your room card into the wall slot by the door to activate the power in your room including the lights. Then use the control panel to alter the colour and mood of the lighting.
How do I use the heating and air con?
Your room is fully air conditioned and you can control the temperature using the control panel in your room.
How do Point A Hotels limit their environmental impact?
At Point A Hotels we work hard to limit our environmental impact. All of our toilets are fitted with dual flush systems, the packaging for all our toiletries is 100% recyclable and we clean guest rooms on every third day rather than every single day like some hotels.

All information is provided in good faith however descriptions and facilities may be subject to change - Official Website
Amenities
Train/Tube/Metro
Liverpool Street