Sportpaleis Antwerp - Seated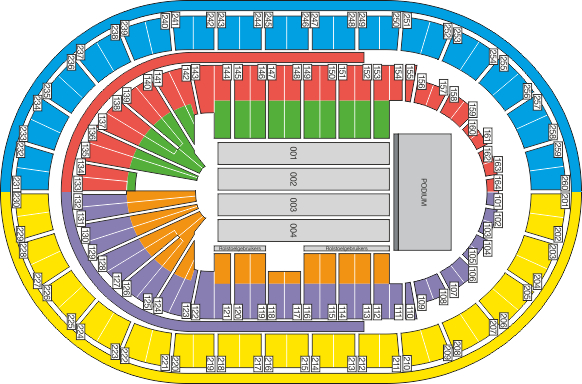 The Antwerps Sportpaleis (Antwerp's Sport Palace), also called Sportpaleis Antwerpen, Sportpaleis Merksem or simply the Sportpaleis, is an arena in Antwerp, Belgium. It is a multipurpose hall where concerts, sporting events, festivals and fairs are organized. According to Billboard Magazine, the Sportpaleis is the second most visited event hall in the world. The Sportpaleis is known for performances by both Dutch-speaking and international artists. The main building is 88 metres wide and 132 metres long and has a roof spanning 11.600 m². Under the stands, there is a wooden cycling track 250 meters long and 8 meters wide. The arena is elliptical and has two floors. The venue has had scores of sports events, spectacular shows and numerous concerts. It is also host to the Night of the Proms, that has taken place since 1985. Famous names such U2, Elton John, Limp Bizkit, Lionel Richie, Whitney Houston have performed here.
Directions
By Train
Take the train to Central Station of Antwerp. Coming out Central Station go to 'Astridplein'. This is right in front of Central Station. At 'Astridplein' you can take the subway, tram or bus (De Lijn). By subway Take the presubway n°3 in the direction of Merksem. Then get off at the stop 'SPORT'. The Sportpaleis is next to the exit of this subway station.
By Tram
Take the tram 12 in direction of Deurne. The tram stops right in front of the Sportpaleis.

By Bus
Take bus n° 19 or 23 coming from the centre of Antwerp. These two lines also have a bus stop close to the Sportpaleis. When you show your ticket of Proximus Stars on Ice, 'De Lijn' offers you a rebound ticket for the citynet of Antwerp only for € 1,5 instead of € 2. You can buy these tickets on the tram or bus.

By Car
Coming from Brussels (E19 / A12), Ghent/Ostend (E17), Luik/Hasselt (E313) Take the ring of Antwerp. Follow the direction Breda. Then take the exit 2 (Deurne-Antwerp).
Coming from Breda / Bergen-op-Zoom (E19) Take the ring of Antwerp exit 1 (Merksem/Centrum). Then you turn left under the express road. Go straight on, until the road splits up. Here you turn left and immediately turn right. After about 1.500 m you will see the Sportpaleis. Coming from Eindhoven (E34) Follow the direction Turnhout. Take the ring of Antwerp and follow the direction Breda. Then you take the exit 2 (Deurne-Antwerp).