Thistle Bloomsbury Park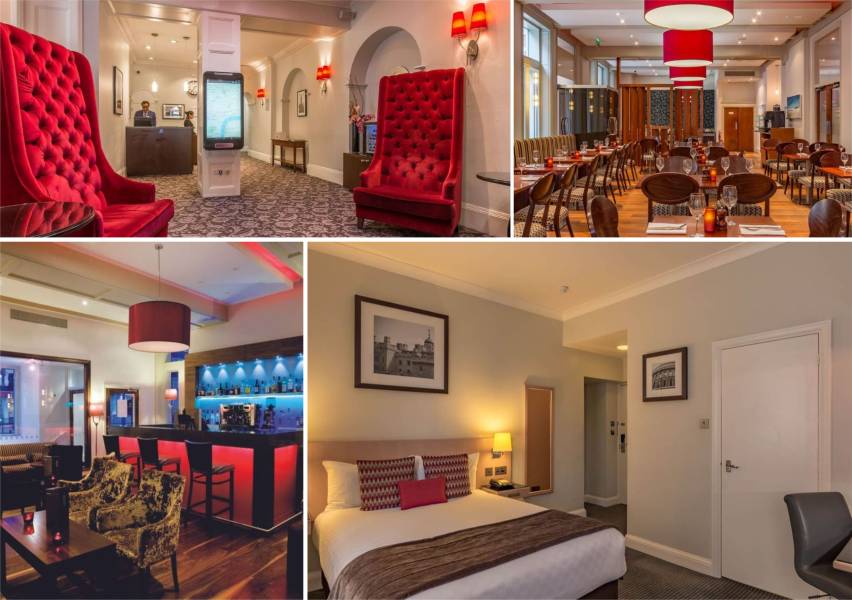 Description
An elegant hotel, Bloomsbury Park in London embodies all the values held dear at Thistle – excellent location and facilities, great service and a warm, welcoming atmosphere – and consistently achieves the high standards set.
Rooms
All rooms in this new look, contempory London hotel are newly refurbished, en-suite and have BT Wifi internet access. Facilities Available: BT wifi (chargeable), Coffee and Tea Making Facilities, Complimentary Toiletries, Direct Dial Telephone, Flat Screen LCD TV with Freeview, Radio, Room Safe, Work Desk
Dining Options
Bloomsbury Bar - The Bloomsbury Bar is a modern bar serving snacks and light meals. The bar is open daily from 12 noon until midnight.
Bloomsbury Kitchen - The Bloomsbury Kitchen is a modern brasserie serving breakfast and dinner. The restaurant is open daily from 5.30pm until 9.30pm.
Cellar Bar, London - The Cellar Bar is located on the Lower Ground floor within the Bloomsbury Park Hotel and is predominantly used for private events, meetings and social evenings.
Location
Located near Covent Garden, Oxford Street and Russell Square Gardens, Bloomsbury Park, a Thistle Associate hotel is the perfect hotel in Bloomsbury from which to explore Bloomsbury's famous squares and gardens. For business meetings, Bloomsbury Park hotel is located near St Pancras Station & EuroStar London. The hotel is also near Holborn and Tottenham Court Stations.
Directions
To reach Bloomsbury Park by road…From the Euston Road (A501) heading east, turn right at the traffic lights just past Euston Station onto Upper Woburn Place (A4200). Continue past Russell Square into Southampton Row, where you'll find Bloomsbury Park on the left-hand side. To programme your sat-nav, please use the postcode WC1B 5AD.
If you're coming to Bloomsbury Park by rail… London Euston mainline station is about a quarter of a mile from Bloomsbury Park. The nearest Underground stations are Russell Square (Piccadilly line) and Holborn station (Central and Piccadilly line).
From the London airports… From London Heathrow, the Heathrow Express runs direct to London Paddington in just 15 minutes (20 from Terminal 5), with a train every quarter of an hour. The Gatwick Express runs a similar service into London Victoria from London Gatwick.

The Thistle Bloomsbury is 47min away by Public Transport from Wembley & 16min away from Hyde Park
London underground stations:- to Wembley
Euston Square 0.6 miles - 12 Minute Walk from hotel - 35 Minutes Underground to Wembley
London underground stations:- to Hyde Park
Russell Square 0.6 miles - 07 Minute Walk from hotel - 16 Minutes Underground to Hyde Park

All information is provided in good faith any inaccuracies please advise [email protected] - Thank you.