Titanic Hotel Belfast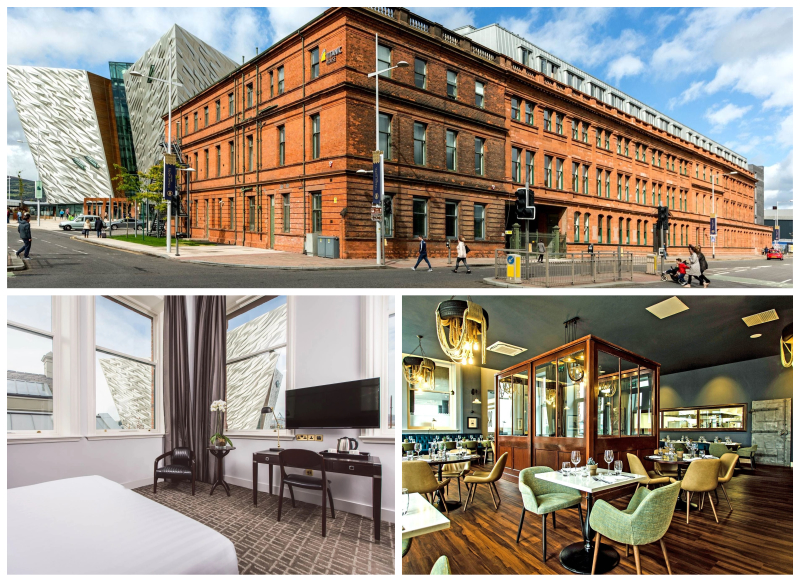 Description
Located at the heart of Belfast's Titanic Quarter, the legendary Harland & Wolff Headquarters and Drawing Offices is now the world's most authentic Titanic hotel, offering an unforgettable experience for anyone visiting Northern Ireland.
Rooms
All bedrooms have personality with streamlined Art Deco furniture and nautical touches throughout, with hanging ship's lanterns, riveted panels and unique maritime artwork in every room. A stay at Titanic Hotel Belfast is infused with drama and heritage.
Dining Options
Imagine a bar area decorated with beautiful Art Deco and Art Nouveau travel posters and outstanding interior design, boasting views of the historic views of Titanic Belfast and the legendary Slipways, with a host of bespoke cocktails created by in-house mixologists. Welcome to the Harland Bar. The team of mixologists has crafted a creative and enticing menu of cocktails to suit any palate, from Ms Millvina Dean, honouring the last remaining survivor from the Titanic disaster, to classic cocktails such as Whiskey Sour, Old Fashioned, Sidecar and Manhattan.
Fine dining is available at the Wolff Grill but please be advised this needs to be booked in advance. 24 Hour room service is also available.
Leisure
Guests are welcome to explore the hotel's exclusive art and heritage collection created in collaboration with museum institutions, historians, private collectors and local artists. Exhibiting over 500 artworks and photographs throughout the building, passenger portraits and authentic White Star Line memorabilia transports the viewer back to the Golden Age of Ocean Travel.
Location
Titanic Hotel Belfast is located at the heart of Titanic Quarter, an area transformed over the past decade to become Northern Ireland's premier leisure destination with numerous visitor attractions, heritage assets, restaurants and public spaces just metres from the hotel.
Belfast City Airport is a 5-minute drive away making Titanic Quarter perfectly situated for the business traveller in need of a hotel near Belfast City Airport or for a Northern Ireland leisure break.
All information is provided in good faith any inaccuracies please CONTACT US Thank you.