Vicarage Road, Watford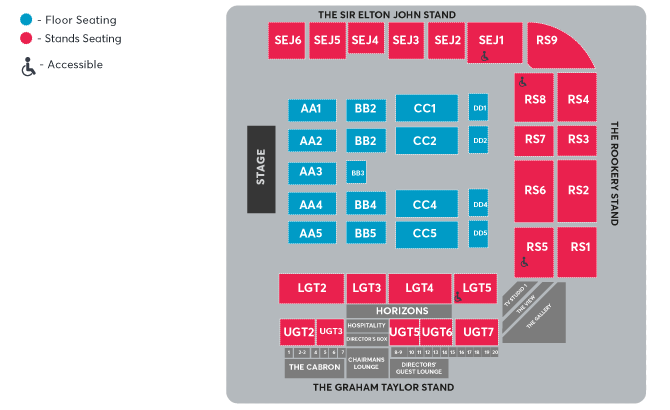 Vicarage Road is a stadium in Watford, England, and is the home stadium of Premier League club Watford. An all-seater stadium, its current capacity is 22,200.
By Train and Tube
The nearest station is Watford High Street, a 10-minute walk away from the ground. Watford Junction train station is about a 20-minute walk. Watford also has its own London Underground tube station, which is on the Metropolitan Line and is situated just under one mile from Vicarage Road.
By Car
Directions to the Church Car Park From the North or East, join the M25 and exit at Junction 20. Take the first exit onto the A41 to Watford. At the next roundabout, take the second exit onto A411 (Hempstead Road). Continue along Hempstead Road until you reach the town centre. At the large roundabout take the second exit feeding into the inner ring road, which is a oneway system. Stay in the righthand lane and follow the Ring Road until you see the entrance to the Church car park on your right hand side. From the South or West, join the M25 and exit at Junction 19. At the end of the link road, take the third exit onto A411 (Hempstead Road) Once on Hempstead Road, follow the directions detailed above. From Central London, join the M1 and exit at Junction 5. Take the second exit onto the A4008. Cross the first roundabout, then take the second exit at the next towards the town centre. At the traffic lights, turn left onto the inner ring road at the Tjunction and filter across to the right-hand lane. Follow the Ring Road until you see the entrance to the Church car park on your right hand side. If travelling to the stadium on a non-matchday, follow any of the directions above and stay in the left hand lane when reaching the ring-road until you see the sign for Vicarage Road. The clubs postcode is WD18 0ER.
Parking
There is no parking available for fans at the ground and street parking is restricted for local residents with matchday permits. Watford General Hospital ensure that their security and parking staff monitor the entrances to the hospital carparks to prevent supporters from parking on-site. Watford town centre has several car parks, the easiest of which for access to Vicarage Road is Church Car Park (WD18 0JD) on the inside of the ring-road, opposite the turn-off into Vicarage Road. All town centre car parks are within a 10-minute walk of Vicarage Road. There is also additional car parking in the Town Centre at Royalty House (WD18 0BW). Other possibilities are Watford Grammar School for Girls (WD18 0AE), and Fishers Industrial Estate off Wiggenhall Road (WD18 0FN).