Villa Park - Bruce Springsteen and The E Street Band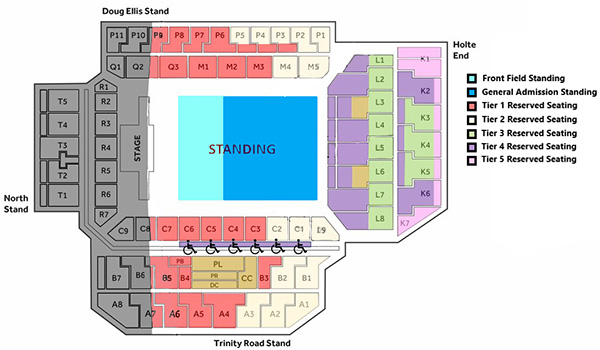 Villa Park has hosted World Cup and European Championship football, it has staged more FA Cup semi-finals than any other venue, England have played there 11 times over the course of three different centuries, it was the stadium where the last-ever UEFA Cup Winners' Cup final took place.

Major boxing and American Football events have also been staged there, not to mention rock concerts and religious gatherings. Villa Park truly is a ground for all people and all seasons.
Where is Villa Park Stadium?
Villa Park is located toward the north of the city of Birmingham at approximately 2.5 miles from the city centre.
If arriving by car from outside the city, the stadium is best reached from the M6 motorway. Take exit 6 and follow the signs for the A38 (not the A38M). On the island turn right (A5127), and follow the signs to Villa Park.
If coming from the east, one can also take exit 7 from the same motorway, and then follow the A34 south for a few miles. Passing Alexandra Stadium make sure to stay in the nearside lane and leave the carriageway before the flyover. Follow the signs for matchday parking.
If using public transport, the stadium is best reached by train. Aston Station and Witton Station are just a short train ride away from Birmingham New Street Station. Witton Station is closest, a 5-minute walk to the stadium, whereas it takes 15 minutes to walk from Aston Station.
Alternatively, the stadium is served by bus 7 and 11. Bus 7 leaves from Upper Bull Street in the city centre.
Amenities
Train/Tube/Metro
Aston Station and Witton Station