Ziggo Dome Amsterdam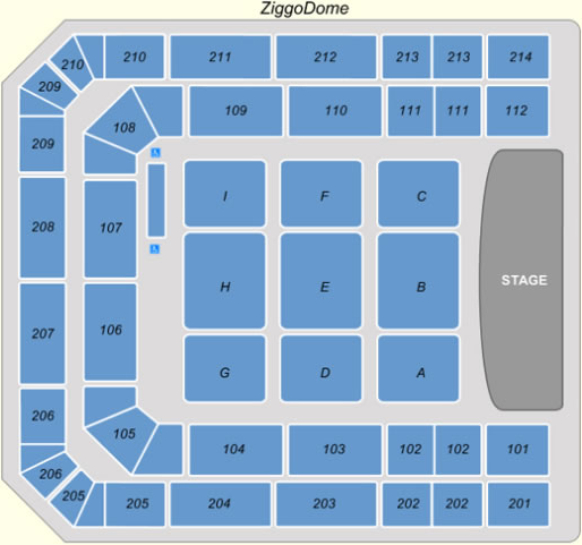 The Ziggo Dome is an indoor arena in Amsterdam, Netherlands, located next to the Johan Cruijff ArenA. It is named after the Dutch cable TV provider Ziggo. In 2014, the Ziggo Dome Awards were announced, recognizing artists who performed at the arena.
Directions to the Venue
BY TRAIN
There are two train stations near the venue: Amsterdam Bijlmer ArenA and Duivendrecht, both stations are within walking distance. If you come from the direction of Schiphol Almere and Amersfoort, take the train to Duivendrecht. If you travel from Amsterdam Central and Utrecht Central Station, take the train to Amsterdam Bijlmer ArenA.
BY CAR
Ziggo Dome is located in the heart of Southeast Amsterdam, surrounded by the A1, A2, A9 and A10. From all directions look for the A2 to come out in Amsterdam Southeast. Then follow "Arena Gate" and the instructions on road signs.
PARKING
Parking cards can be purchased at the service desks on the ground floor in the Ziggo Dome and are available for the following parking places: P1, P2, P3, P4, P5, P6, P10, and P18. Parking is also available in the P+R network: easily park your car on the edge of the city and continue by public transport.
BY BIKE
Bicycles can be parked at the front square of the Villa ArenA Mall and near Amsterdam Bijlmer ArenA station. The latter is a selfservice bicycle parking, open from 15 minutes before until 15 minutes after the last train of the day. OV-bicycles can be rented at station Amsterdam Bijlmer ArenA, in case you arrive by train, metro or bus and wish to cycle the last stretch. Arriving by motorcycle, moped, or scooter? The Ziggo Dome has lockers available to safely store your helmet during the concert or event.
Amenities
Train/Tube/Metro
Bijlmer ArenA and Duivendrecht