Andrea Bocelli - The ALL.COM VIP Terrace – Standing Ticket & Hotel Experience (with Early Entrance) - 05 July 2024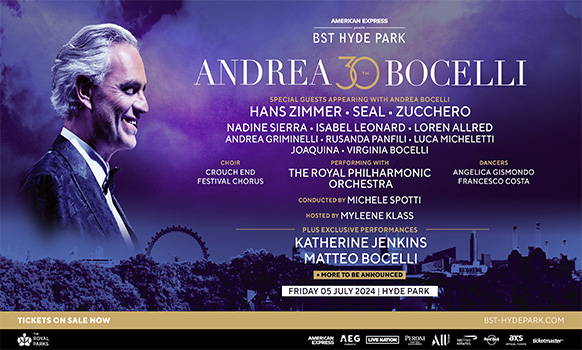 Andrea Bocelli The ALL.COM VIP Terrace - Standing Ticket & Hotel Experience (with Early Entrance)
Includes:
• Choice of Overnight Hotel Accommodation (including Complimentary Breakfast)
• Experience The ALL.COM VIP Terrace
• Ticket on the Standing Platform/Area within the partially covered grandstand
• Dedicated entrance for The ALL.COM VIP Terrace customers
• Be one of the first through the gates to explore American Express presents BST Hyde Park!
• First access to the event up to one hour before the main entrance opens to General Admission standing customers
• **The ALL.COM VIP Terrace (is a tiered, partially covered Grandstand from where you will have
incredible views of the Great Oak Stage and be able to watch all performances, allowing you to leave
and return between the ALL.COM VIP Terrace into the American Express VIP Summer Garden and
General Admission area as you wish)
• Enjoy access to the American Express VIP Summer Garden - an exclusive area offering VIP bars,
premium food outlets, additional comfortable seating, separate facilities and cloakroom
• Explore BST before the headliner arrives and enjoy the fantastic offerings the arena has to offer. Browse
a number of superb bars, popular street food vendors and exciting activations from BST partners.
• Access to a number of facilities located in various easy-to-find positions around the area
• Digital Tickets and Detailed Information/Itinerary in advance
• All Taxes
Prices from: £399 Per Person
Flexible Payment Options:- Pay a Deposit £300 per person (Balance due 8 weeks before event) or staggered interim payments as you choose.
All prices are per person including VAT/Taxes
Times - Gates Open: 14:00 – please note the gates will be open approx. 60 minutes early for those customers who select with Early Entry Ticket Experiences. Age restrictions - Anyone under 16 must be accompanied by a parent or guardian (18 or over). Children under the age of 2 will be admitted free of charge and do not need a ticket. All children aged 2 and over must have their own ticket. Accessibility - For customers with disabilities wishing to book the accessible viewing areas, please visit the festival website. Ticket Limit - 6 per person.