The Cumberland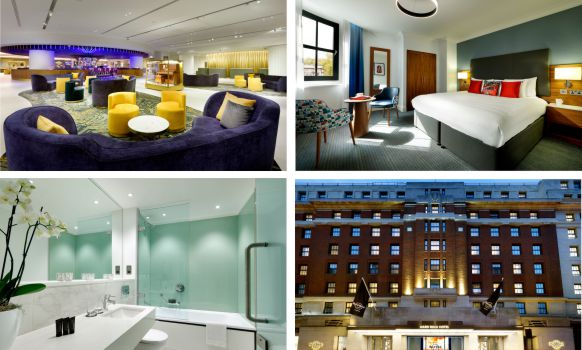 LOCATED: 5 MINUTE WALK FROM HYDE PARK
The Cumberland (Formerly The Hard Rock Hotel London)
The Cumberland hotel, Marble Arch, draws inspiration from the capital's love of music, with a glorious fusion of comfort and service. In a prime position just off Oxford Street, yet just yards from the expansive green space of Hyde Park and Marble Arch, it's the perfect base for your London visit.
You'll be close to famous shopping districts, museums and historic landmarks, while Marble Arch London Underground station is just around the corner, making further exploration a breeze.
With 1019 rooms, bars, a restaurant, meeting rooms and all-modern, accessible facilities, The Cumberland is a cool destination for leisure and business travellers. So, channel your musical passion and book your place at the best hotel show in town.
Rooms
Sweet Dreams are Made of This - Indulge in the most luxurious hotel rooms and suites with a rocking level of personal service. It's music to your ears, and The Cumberland is perfectly in tune. Whether it's our Studio Suite, Classic Single or Gold Family rooms, we have the best hotel accommodation in London. There is so much to see and do in the capital city, from your trip's opening number to the grand finale. No wonder our guests appreciate a good night's sleep at the end of the day.
London's No.1 live Music and Dining experience
Located within The Cumberland Hotel on the corner of Oxford Street and Park Lane, The Cumberland brings you live music 7 days a week. With 3 venues in 1, we're the ultimate spot for live music, sport, food & drink, and a buzzing atmosphere. It is the perfect venue for all celebrations, birthdays and get-togethers.
Events
With 3 venues in 1, we're the ultimate spot for live music, sport, food & drink, and a buzzing atmosphere. Our live music venue has something for everyone, each day featuring a different music genre. Please take a look at our full events listing.
Sound Sports Bar
SOUND Sports bar boasts nine 4k screens, meaning no matter where you sit you will have a clear view to watch the game. What's more, we can show up to three games at once, so if you are looking to catch the Premium League, Formula 1, or the rugby we have you covered. Any why take in a live act after the game in our Sound Cafe located next door
Sound Cafe
SOUND Café is the perfect place to escape the hustle and bustle of England's capital. Walk in and absorb the ambience! SOUND Café lets you enjoy a delicious meal and a refreshing cocktail, surrounded by iconic musical memorabilia in a space where legends of music once came to play. Situated in the heart of London's West End, we celebrate everything about this city rich in musical history. London has been the birthplace of many of the iconic genres of music still celebrated today, and we sit inside a hotel that has boasted former guests such as Jimi Hendrix, Bob Dylan, and Stevie Wonder.
Nearest Tube/Metro
Marble Arch - Plan your route
Ideally located for Hyde Park

Journey to Wembley Stadium: London Underground (Jubilee Line). Including walking to and from tube stations, journey time approx 45 minutes.

All information is provided in good faith however descriptions and facilities may be subject to change - Official Website - (previously The Hard Rock Hotel London)
Amenities
Location
London - Marylebone W1H 7DL
Train/Tube/Metro
Marble Arch